{"marketplace":"marketplace.php","search_page":"marketplace.php?page=search","category":"marketplace.php?page=search&category=","load_products":"marketplace.php?page=search&phrase=","product_details":"marketplace.php?page=product&id="}
Back to marketplace
Gong.io
Learn how sales leaders use Revenue Intelligence to skyrocket rep success and win more deals. Voted #1 by revenue professionals like you. Book a demo. We created the Revenue Intelligence category to enable leading revenue teams to get the unfiltered truth about their customer interactions, their deals, and transform the way they go to market. So far, it seems to be working. But don't take our word for it.
THE #1 PLATFORM FOR REMOTE SALES TEAMS
Gain critical insights into what's happening with your remote sales team, your deals, and your market with Revenue Intelligence from Gong.
Revenue Intelligence is a new way of operating based on reality instead of opinions.
We created the revenue intelligence category for you.
What is Deal Intelligence?
It's true visibility from the macro to micro—from pipeline to deal to customer interaction—in a single view so you can proactively address risks before deals go dark.
See all your customer interactions at-a-glance & quickly assess deal health
AI identifies risks so you can quickly address blockers & increase close rates
Collaborate with your entire team on a deal & ensure seamless handoff post-sale
Here's How Deal Intelligence Helps You Win More Deals
Understand your pipeline
Don't settle for anecdotes and spotty notes. Gong gives you a single, unfiltered view of what's going on across your deals so you can quickly understand which ones are healthy and which ones are at risk of stalling.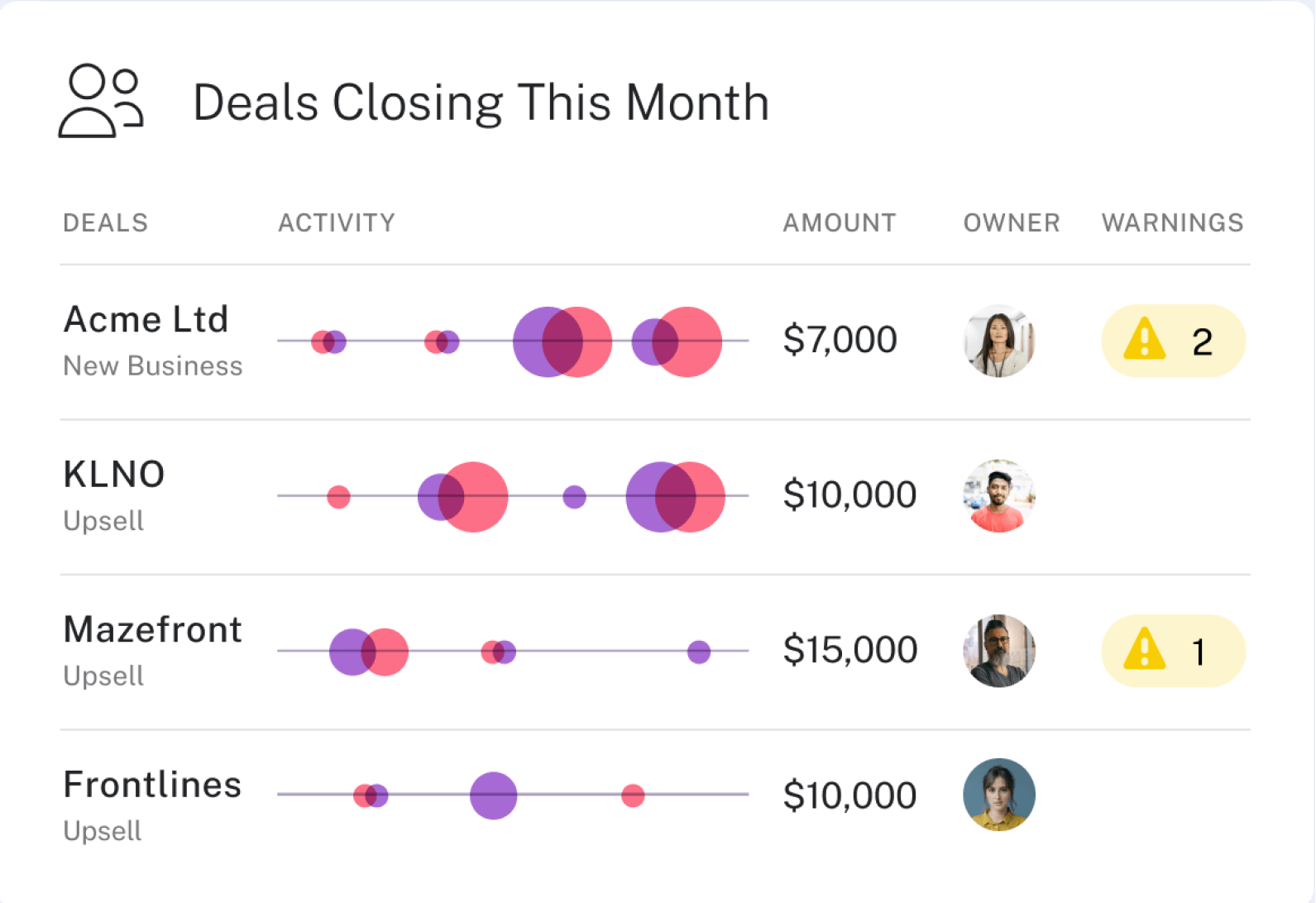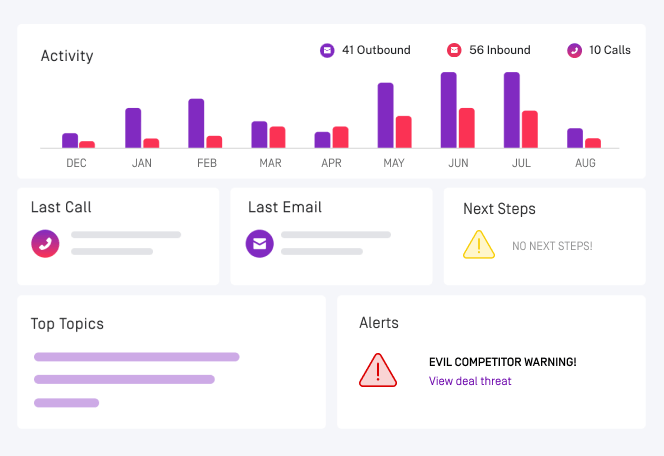 Proactively unblock deals
Quickly audit deals to identify trouble spots. Are the right decision-makers in the deal? Have the next steps been set up? Be proactive and strategize with your reps to course correct in time and keep sales moving.
Help your team win
Selling is a team sport. Gong enables knowledge transfer at scale, so the entire deal team is up to date on the latest for any deal. Work together to deliver a better buyer experience and close more deals.
What is People Intelligence?
It's true visibility into how your reps and your managers are performing every day, with AI-recommendations that help them reach their peak.
Real-time visibility into rep and manager activity gives you the full picture
AI extracts hard data for soft skills pinpointing opportunities for growth
AI recommends best practices based on top-performances
Goodbye, Opinions. Hello, Reality.
Gong is a light in the dark
No more opinions. With Gong, you'll get hard data on how each of your team members is performing vs. the rest of the team and industry benchmarks so you can provide personalized coaching based on data, not guesswork.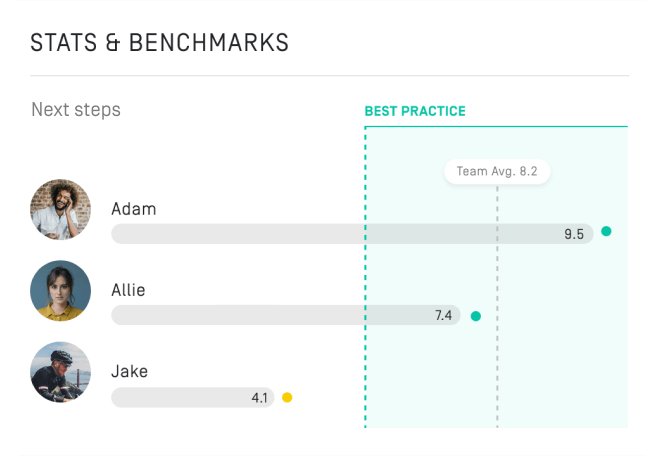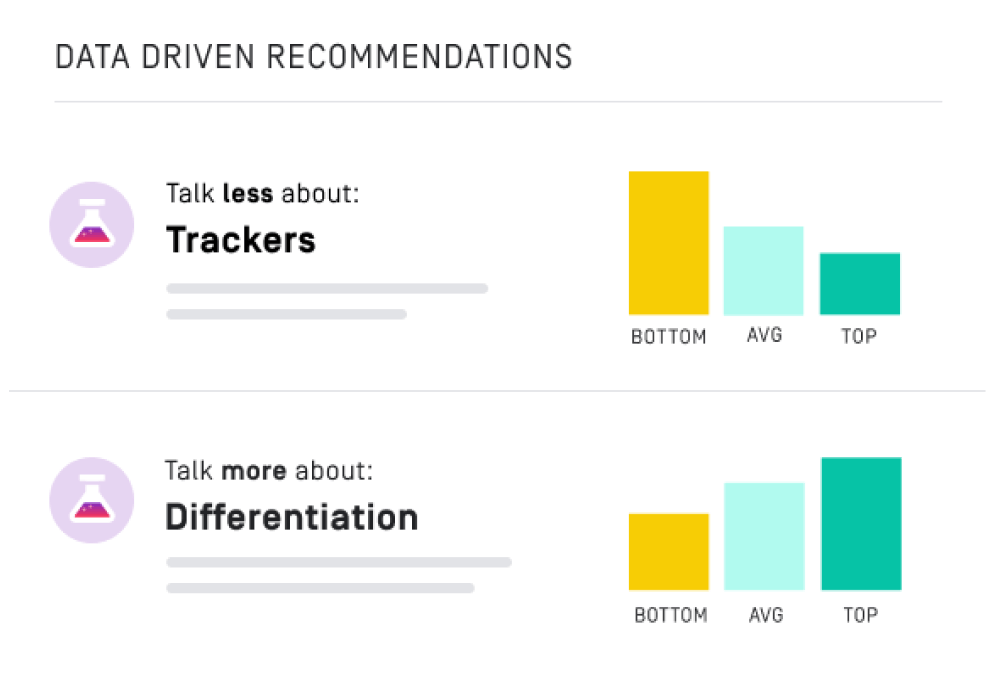 Personalized coaching recommendations per rep
Gong highlights exactly what each rep needs to do differently to be more effective and close more deals. That lets you unlock each rep's full potential.
Create a team of A-players
Gong's insights help you move your team's B and C players into the big leagues and increase the number of reps who hit (and exceed!) their numbers.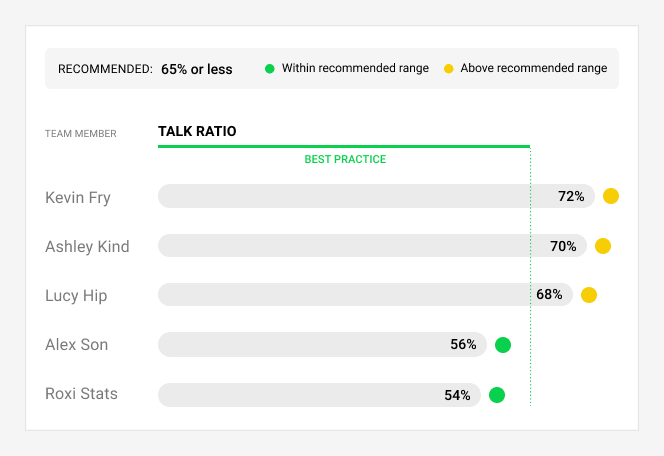 What is Market Intelligence?
It's having a pulse on your market, everything from how competitors are coming up in your deals to measuring the success of your most strategic initiatives like product and messaging launches.
Real-time visibility into buyer and competitor activity gives you the full picture
AI understands & quantifies important interactions pinpointing opportunities
AI tracks trends over time, giving you context for shifts in the market
Goodbye, Opinions. Hello, Reality.
Understand Your Buyer
Don't settle for anecdotes on what your buyer cares about. Capture the true voice of the customer in their own words, and understand what customers care about at scale, so you can speak directly to their challenges.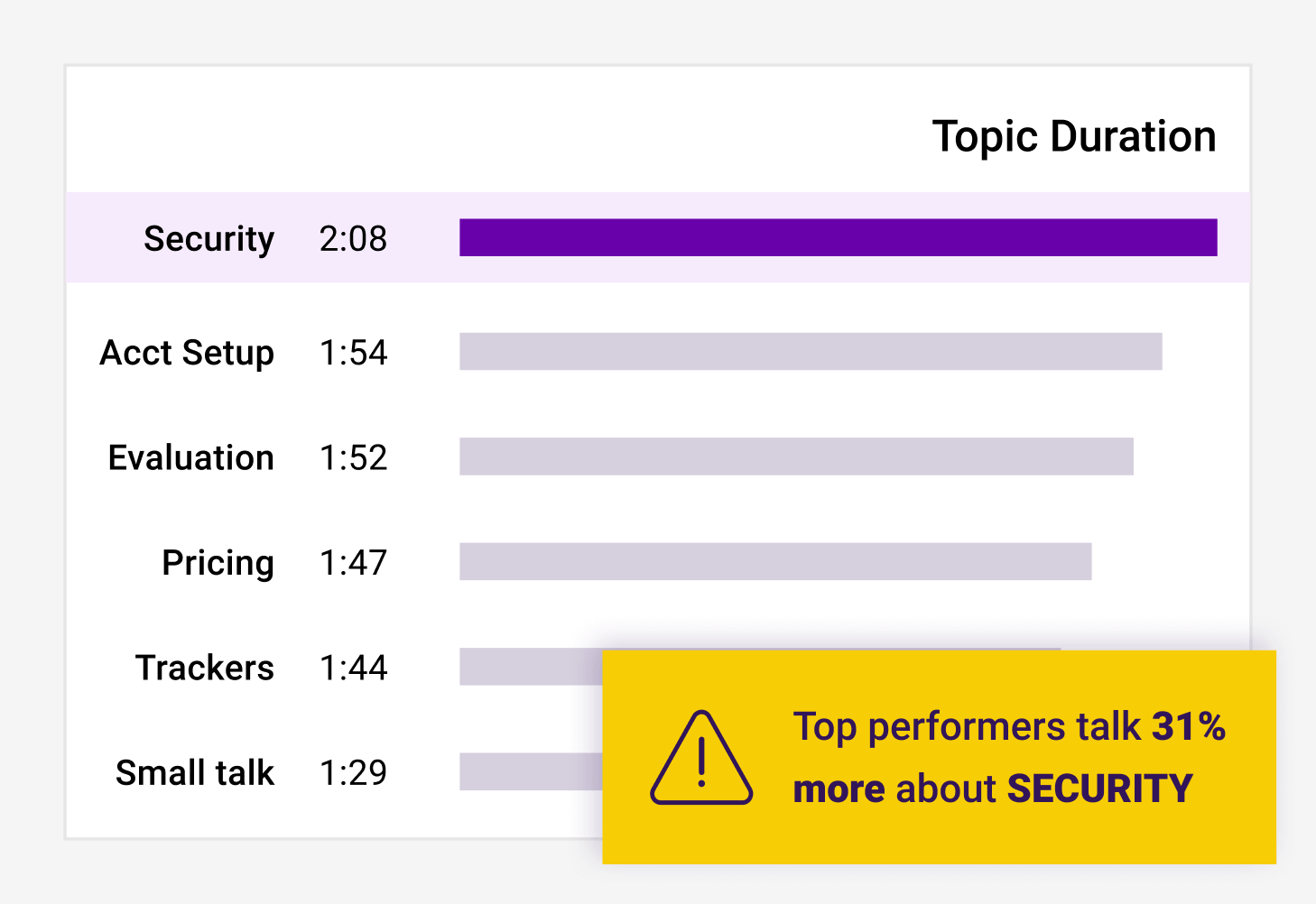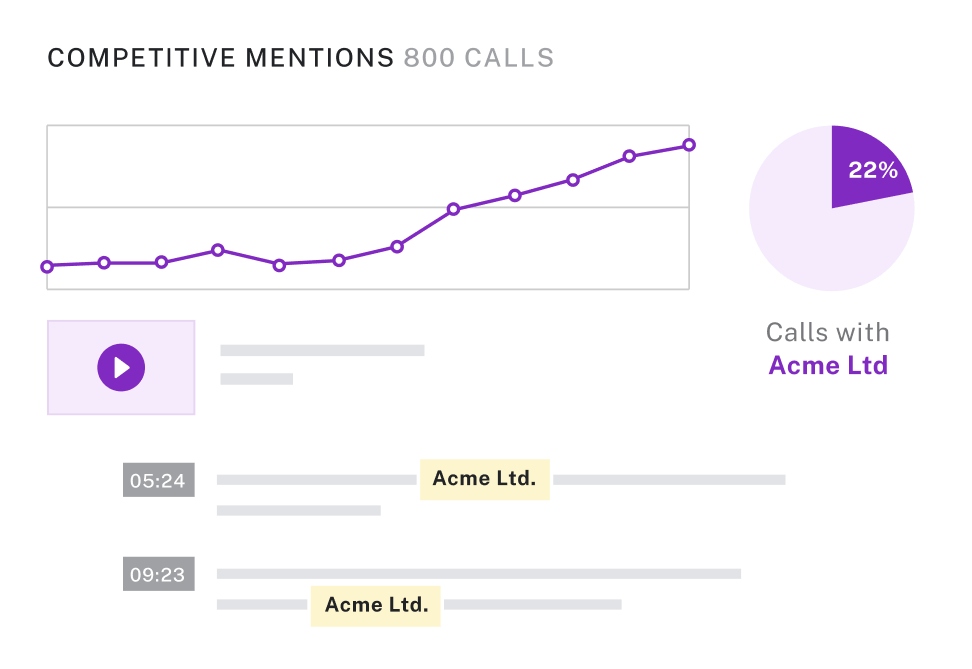 Understand your Competition
Get a dose of reality. How much are competitors really coming up in your deals? Are those competitive conversations speed bumps, or full-on roadblocks? Gong will help you understand the difference so you can crush the competition. .
Know What Works
A winning strategy starts with winning data. Gong understands what talk tracks work, so you can track initiatives, and pick real winners vetted by the market. Keeping you ahead.